Neo-Calvinist Al Mohler Wants To be President of the SBC: Actually He Has Been Controlling SBC For Years
WHY THE SBC DOES NOT NEED MORE ALBERT MOHLER LEADERSHIP
The Southern Baptist Convention is in trouble. Few doubt this reality. Many anticipate the SBC will split in the very near future over deepening divides like the false social justice gospel , women in the pulpits ,Revoice LGBT+ flourishing in the church and the open promotion of Critical Race Theory as a useful tool . An Albert Mohler SBC Presidency is seen by some as the answer to all that troubles Southern Baptist .
Mohler, prominent Southern Baptist, will be nominated to lead denomination
Is Mohler the answer ?  A close look at Albert  Mohler during all this proves he is at the epicenter of the problems plaguing Southern Baptist . One stark example is Mohler has boasted the pro egalitarian  #MeToo movement coming into the church is  the "Wrath of God Poured Out" on the SBC .
SOME REALITY CHECKS 
The persons who played the most active role in creating  the present atmosphere of division and "us against them " climate in the SBC and who are driving the talking points of Social Justice , women's rights , and Critical Race Theory / Intersectionality are part of the Mohler run SBTS institutions. Albert Mohler 20 plus year protege' Russell Moore is the most polarizing figure , by design , in the SBC landscape . Most of the African American's giving leadership to CRT promotion as a "useful analytical  tool when used with the Gospel " are Mohler employees.
The emergence in 2018  of  the Revoice "LGBT+ Flourishing in (Conservative) Historic Tradition " (like the SBC) was founded by one of Mohler's long time SBTS disciples Nate Collins. Collins spent 14 1/2 years ,earned two degrees  at Mohler's seminary , is the son of a faculty member, authored his pro LGBT+ Christian book "All But Invisible" AND launched Revoice while TEACHING NEW TESTAMENT  for Albert Mohler .
"ALMOST AL's" HISTORY AS AN UNCERTAIN CONSERVATIVE 
Mohler enjoys great public respect for his reputation reforming SBTS and "saving it from the hands of liberals" in 1993 .While history makes Mohler out to be the brave conservative champion who played a major role in the "conservative resurgence"- Mohler's close friend  MARK DEVER  of 9 MARKS confirms that during his formative years in two SBC institutions Mohler was "an egalitarian and DID NOT BELIEVE IN THE INERRANCY OF SCRIPTURE".
Reformation and the SBC: A Round Table Interview with Tom Ascol, Mark Dever, and Jared Longshore
( Watch the last 15 minutes of this 2017 interview with Founders Ministries Tom Ascol )
JARED LONGSHORE, MARK DEVER, TOM ASCOL
Audio Player
00:00
00:00
Use Up/Down Arrow keys to increase or decrease volume.
"In this interview, Jared Longshore asks Tom Ascol and Mark Dever about their 30+ year friendship, the reformation in Baptist life which has occurred over that time, and some counsel for the future work of gospel ministry."
ALMOST AL MOHLER AND HIS MOST CELEBRATED PROTEGE' RUSSELL MOORE . WHY ARE  SOME BAPTIST  BLIND TO THE MOHLER/MOORE RELATIONSHIP ?
(MOORE SPEAKING UNDER THE WATCHFUL EYE OF MENTOR ALBERT MOHLER )
It is certainly not news that MANY Southern Baptist do not like Russell Moore. Moore launched his leadership of the ERLC in 2013 by declaring the "Culture war was over- we lost and we should stop the hateful rhetoric and just love our gay and lesbian neighbors".
MOHLER AND MOORE HISTORY 
Moore is the boyish looking Mississippi Democrat who Mohler helped educate and who Mohler employed at SBTS for 20 YEARS before his ascent to the ERLC. Unlike Mohler, Russell Moore likes his high visibility role in the SBC. For some reason many who see Russell Moore for who he is fail to connect Moore to his mentor "Almost Al" Mohler .
MOHLER FROM 2013 INAUGURATION OF RUSSELL MOORE
"The Man from Issachar—An Address at the Inauguration of Russell D. Moore"
"First, I point to the character and giftedness of this man. I can remember the very first conversation I had with Russell Moore. In that first meeting, I caught a glimpse of his intelligence, his conviction, and his ambitions. I knew then that he was out to change the world, but that his first loyalty and constant horizon is not this world, but the world that is already but not yet—in other words, not the kingdoms of this world but the Kingdom of our God and of His Christ."
"His intellect is first rate, as is his scholarship. He came as a Doctor of Philosophy student and transformed his doctoral dissertation into a manifesto for kingdom ministry and cultural engagement. His intelligence is energetic and his wit always on hand. To talk with Russ is to enter into a world of ideas undergirded by conviction and footnoted with readings."
"He is not merely fascinated by ideas, he is a true public intellectual. He belongs to that class of thinkers who are not merely collectors of ideas but movers of minds. He is a master of communicating those ideas and he knows how to make truth come alive as a living force."
"He is one of the most natural conversationalists I have ever encountered. He is like the Victorians who could enter any room and join the conversation and immediately add to it. He is a voracious reader who is a walking bibliography and a library on legs. He comes alive when a book or an idea or a problem or a personality comes to attention."
"In 1 Chronicles 12:32, we read of the men of the tribe of Issachar, "who had understanding of the times, to know what Israel ought to do." We know Russell Moore as a man from Mississippi. I think he is really a man from Issachar. I think he has an understanding of the times, and he knows what God's people ought to do."
""The man and the moment have come together and, like you, I don't for a moment believe it is a coincidence.
https://albertmohler.com/2013/09/12/the-man-from-issachar-an-address-at-the-inauguration-of-russell-d-moore
RUSSELL MOORE – NEVER TRUMPER WAS PLACED ON A SHORT LEASH BY THE SBC BUT NOW OPENLY PARADES HIS  COZY RELATIONSHIP TO OBAMA POWERBROKERS 
At 20 years old Michael Wear was appointed to Obama's Faith Based Partnership leadership in 2008 and then served as his Faith Outreach coordinator for the 2012 re-election campaign. Today he serves as the Obama Foundation Ambassador to America's Believers".
Al Mohler's protege'  Russell Moore and Michael Wear work TOGETHER in The Gospel Coalition and the Social Justice movement . Moore and Wear just appeared AGAIN in the open borders funded National Immigration Forum pushing for amnesty and for more MUSLIM refugee resettlement in the US in the name of "immigration reform".
WEAR AND THE & CAMPAIGN 
Also Wear just recently helped launch the 2020 election statement of the "& Campaign" which seeks to influence CHRISTIAN VOTERS toward progressive political views marketing them as "Biblical Values & Social Justice"
Mohler's Protege' Moore endorsed the Michael Wear book "Reclaiming Hope " about Wear's years in the Obama Administration.
"We can Hope, this book Can Help us". Russell Moore
HOPE FOR WHAT RUSSELL MOORE? A DEMOCRATIC PRESIDENT AND MORE PROGRESSIVE POLICY IN 2020? AGAIN MOORE IS MOHLER'S DISCIPLE 
http://michaelwear.com/blog/2017/5/11/reviews-of-reclaiming-hope
"Reclaiming Hope: Lessons Learned in the Obama White House About the Future of America (Nelson Books; $25.99; see our 20% off sale price at the order link below.)  I think many readers will enjoy it, will learn much, and that regardless of one's affiliation (or non-affiliation) with a political party, it will be a valuable, even important read.  The book is graced with bunches of rave reviews from significant political leaders from across the political spectrum (from several countries, no less) and many respected Christian leaders – from Tim Keller to Russell Moore, pundits, (from Kirsten Powers to E. J. Dionne) and writers as different as J.D. Vance and Ann Voskamp, all insisting this is an important, graceful book."
"ALMOST AL" MOHLER PROTEGE' PUSHING BETH MOORE INTO SBC LEADERSHIP
REMEMBER AGAIN DEVER CONFIRMS MOHLER'S EGALITARIAN HISTORY IN THE FOUNDERS INTERVIEW
ALSO REMEMBER ALBERT MOHLER WANTS IS TO THINK THE #MeToo MOVEMENT HE HELPED COORDINATE AGAINST SWBTS PAIGE PATTERSON WAS "THE WRATH OF GOD BEING POURED OUT ON THE SBC".
https://albertmohler.com/2018/05/23/wrath-god-poured-humiliation-southern-baptist-convention/
https://erlc.com/resource-library/author-index/beth-moore
BETH MOORE
"Beth founded Living Proof Ministries in 1994 with the purpose of teaching women how to love and live on God's Word. She has written numerous books and Bible studies that have been read by women of all ages, races, and denominations. Through the years, American missionaries and expatriates have taken the Bible studies overseas, resulting in Beth Moore Bible study groups popping up all over the world. Beth's Living Proof Live conferences have taken her to all fifty states since 1994."
RUSSELL MOORE HAS BEEN ON A BETH MOORE TARE FOR YEARS.
The  #Metoo movement has been the perfect tool for Mohler disciple Russell Moore to drive the issue of women in ministry in the SBC in order " to prevent more sexual abuse and the covering up of abuse". Russell has made her part of his effort to launch a task force of "SBC Brown Shirts" to seek out , INVESTIGATE and address reports of sexual abuse. These efforts culminated at the 2019 SBC annual meetings in Birmingham Alabama in the approval of the "Repurposed Standing Credentials Committee ". The Committee makes possible a  power grab over local church autonomy and a perfect vehicle for driving the #MeToo movement in the SBC to desired end of some  : total pro egalitarian policy.
(SBC present leadership seems to like creating theater  to drive it's political views and goals the recent Naples FBC dust up over racism over  an SBC Executive Committee Members failed bid for the pastorate looks to be the perfect case for the "Committee's" intervention and in Florida where the 2020 Convention will be held.)
FLORIDA SBC 2020 LOOKS TO BE SETTING THE STAGE 
The Standing Credentials Committee, according to Mohler trained  leader Curtis Brown,  will also address racial and homosexual discrimination /abuse issues in SBC churches . "BIRMINGHAM, Ala. (BP) — Sexual abuse and racism would draw heightened action within the Southern Baptist Convention under recommendations to be considered during the June 11-12 SBC annual meeting in Birmingham, Ala."
"A key recommendation, approved by the SBC Executive Committee in its June 10 meeting, calls for repurposing the SBC Credentials Committee to field claims against churches in regard to SEXUAL ABUSE and DISCRIMINATION  based on ETHNICITY  as well as matters such as HOMOSEXUALITY  that would call their relationship with the SBC into question." ( NOTE that Discrimination is the only target here but not only against women .This is the social justice VICTIM COALITION framed by Cultural Marxist thought)
WHAT IS CULTURAL MARXISM, CRITICAL RACE THEORY , SOCIAL JUSTICE ORIGINS , EVOLUTION AND OUTCOMES? WHY ARE THE CHURCH AND CONSERVATIVE VIEWS ON FAMILY ,POLITICS , SEXUALITY AND EVEN ECONOMICS IT'S TARGET ?
READ HERE IN A SECULAR VIEW OF THE TOOLS OF THE TRADE
https://thepolicy.us/cultural-marxism-the-origins-of-the-present-day-social-justice-movement-and-political-correctness-ffb89c6ef4f1?gi=6d8644ffd92e
MOHLER /MOORE AND LGBTQ+ 
MOHLER AND MOORE DISAVOW THE GOSPEL /OWN LGBT ORIENTATION IN 2014 ERLC CONFERENCE TOGETHER  THE LGBTQ+ SBC CONFERENCE THAT CHANGED EVERYTHING AND NOTHING .
In 2014 the ERLC held its game changer event on the LGBT+ narrative .
THE ERLC National Conference on "The Gospel, Homosexuality, and the Future of Marriage"
https://erlc.com/resource-library/event-messages/by-conference/2014-national-conference
In his opening speech Albert Mohler completely abandoned his long asserted Biblical stance denying the existence of a  "homosexeual orientation " . Mohler apologized for himself and Southern Baptist for being "wrong about sexual orientation ". Mohler then owned  the APA version of human sexual norms  and then abandoned so called "ex gay ministries" and efforts to help people wanting out of homosexuality .
https://erlc.com/resource-library/event-messages/aftermath-ministering-in-a-post-marriage-culture-albert-mohler
After raising eyebrows ( and grave concerns ) with the ERLC homosexual orientation speech Al Mohler set out to explain in this episode of "The Briefing "
https://albertmohler.com/2014/11/13/sexual-orientation-and-the-gospel-of-jesus-christ/
"One of these issues is sexual orientation. As I explained in my address, I had previously denied the existence of sexual orientation. I, along with many other evangelicals, did so because we did not want to accept the sexual identity structure that so often goes with sexual orientation. I still reject that notion of sexual identity. But I repented of denying the existence of sexual orientation because denying it was deeply confusing to people struggling with same-sex attraction. Biblical Christians properly resist any suggestion that our will can be totally separated from sexual desire, but we really do understand that the will is not a sufficient explanation for a pattern of sexual attraction. Put simply, most people experiencing a same-sex attraction tell of discovering it within themselves at a very early age, certainly within early puberty. As they experience it, a sexual attraction or interest simply "happens," and they come to know it."
Yet Mohler's historic 2005 Biblical denial of the APA and LGBT+ activist  efforts to normalize homosexuality via the assertion of "Homosexual Sexual Orientation "was clearly explained in a statement linked below  .
Why did he change his position given what he admits the Authority of SCRIPTURE is at stake in abandoning the Biblical position  for the "orientation narrative ?
NOTE THE 2005 POSITION OF MOHLER ON THE BIBLICAL VS ORIENTATION NARRATIVE
""The critical issue used as a hermeneutical device by the revisionists is the concept of sexual orientation. The modern "discovery" of sexual orientation is used to deny the truth claim clearly and inescapably made within the biblical text. For example, in regard to the Romans text, Janet Fishburn of Drew University Theological School argues: "Yet, some biblical scholars point out that this passage can only refer to the homosexual acts of heterosexual persons. This is because the writers of the Bible did not distinguish between homosexual orientation and same-gender sexual acts. If this distinction is accepted, the condemnation of homosexuality in Romans does not apply to the sexual acts of homosexual persons."
https://albertmohler.com/2005/10/04/homosexuality-in-theological-perspective-part-two/
IN MOHLER'S ERLC 2014 SPEECH AT PROTEGE' RUSSELL MOORE'S EVENT MOHLER TOOK THE SBC TALKING POINTS OUTSIDE THE AUTHORITY OF SCRIPTURE AND INTO THE ACTIVIST LANGUAGE AND FRAMEWORK. 
This ERLC 2014 event also introduced a herd of new speakers  like Sam Allberry , Rosaria Butterfield , Christopher Yuan , Jacky Hill Perry. They along with other Same Sex Attracted "Christians " engage an ongoing conversation in the SBC to hard sell homosexual orientation and engage the ERLC's and TGC Process of Social Change in the SBC and conservative Christian churches and institutions .
Some Further coverage of the 2014 event.
The Grace of Shame: Al Mohler's homosexual orientation error (1)…
IMMIGRATION "REFORM " AKA OPEN BORDERS SOCIETY AGENDA 
MOHLER DISCIPLE RUSSELL MOORE'S ONGOING WORK WITH "IMMIGRATION " THROUGH OPEN BORDERS FUNDED NIF
Al Mohler disciple Russell Moore has continued his role in the National Immigration Forum's Evangelical Immigration Roundtable even after its "Open Borders "/ SOROS  funding was exposed over 6 years ago. This work includes far left liberals like Jim Wallis  and Obama's Michael Wear. Moore recently appeared again in the NIF event this time with Michael Wear .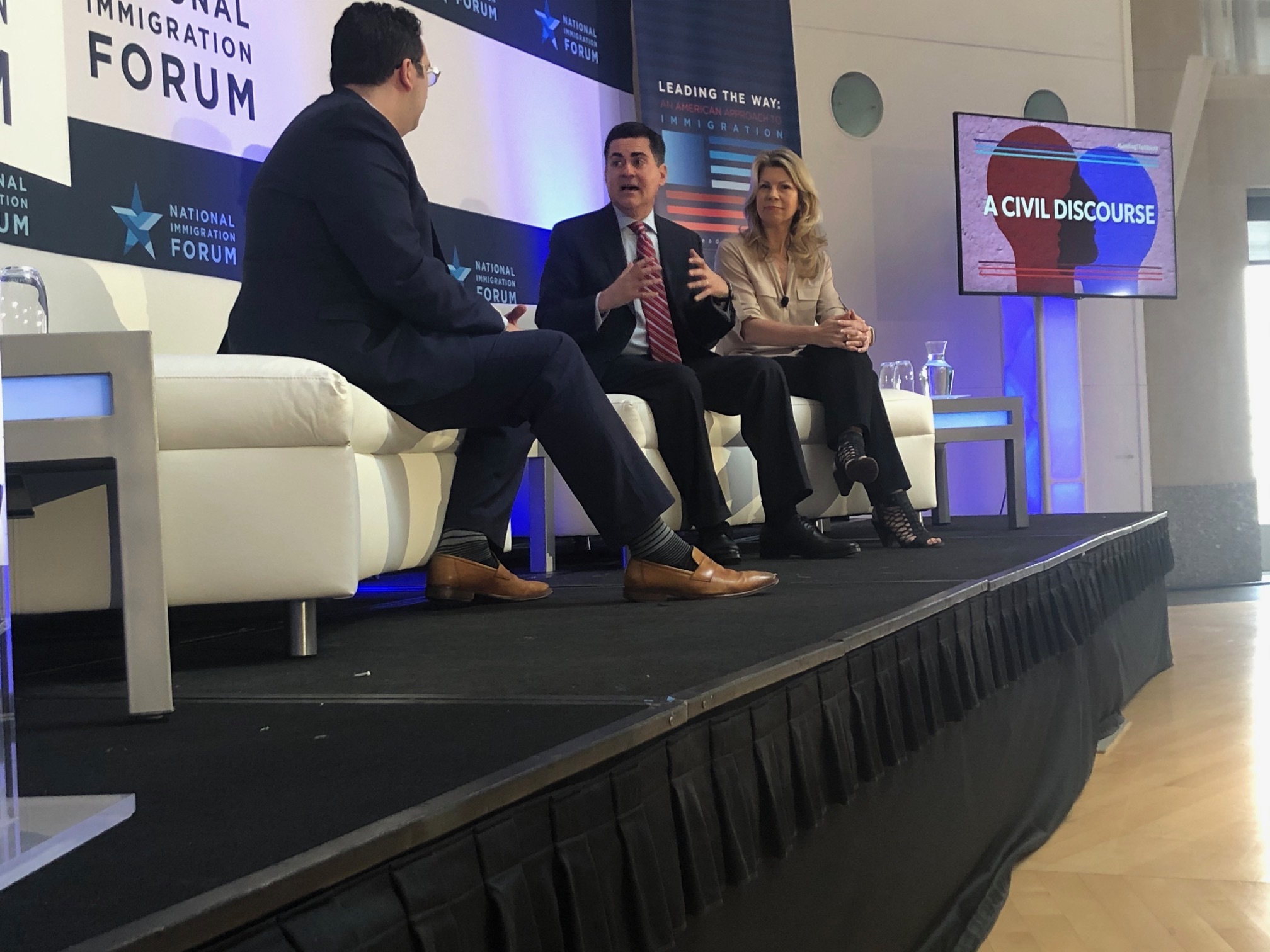 https://immigrationforum.org/wp-content/uploads/2019/09/LTW-2019-Agenda-External-Use.pdf
THEIR TOPIC
"A Civil Discourse
How do we bridge ideological differences and come together for meaningful change?
❖ Moderator: Michael Wear, Chief Strategist, The AND Campaign
❖ Dr. Russell Moore, President, Ethics & Religious Liberty Commission of the Southern
Baptist Convention
❖ Cherie Harder, President, The Trinity Forum"
MOHLER'S CRITICAL RACE THEORY DISCIPLES 
Mohler was part of the 2015 book "Removing the Stain of Racism in the SBC" .At the SBC Dallas 2018 meetings they featured the three year old book on the CP stage and free copies of it were provided in the press room .A stage panel presentation of the book in 2018 including Mohler made a casual mention of Critical Race Theory but did not draw any attention to it. This was perhaps best understood as a public test run of CRT for SBC 2019 in Birmingham where some of the very same SBTS/ Mohler disciples took CRT to CENTER STAGE  in Resolution 9 "approving CRT and Intersectionality as a useful analytical tools with the gospel " ( for identifying discrimination would be the implication of its use).
The Gospel Coalition of which Albert Mohler is a part also promoted this event to it's Themelios pastors audience .
http://themelios.thegospelcoalition.org/review/removing-the-stain-of-racism-from-the-southern-baptist-convention
Jarvis Williams and  Curtis Woods are both SBTS educated and part of the CRT practitioners in the SBC . Both served in the 2019 Resolutions Committee which altered the resolution condemning CRT into an affirmation of it. Both teach at SBTS under Mohler .
JARVIS WILLIAMS AT SBTS
This same team of CRT experts led a two year effort to purge SBTS of it's own history of racism which went public  in December 2018. The "report " exposes some horrific history like that of Joseph Emerson Brown whose wealth and "generosity" twice "saved SBTS" from bankruptcy and endowed a Theological Chair at SBTS .
"Almost Al" Mohler and the Report stop short of exposing that Albert Mohler sits on the racist Joseph Emerson Brown's endowed Chair of Theology at SBTS. It took  a student confronting Mohler in one of his "Ask Me Anything " public appearances to bring out that fact.
ALMOST TRUTH ON LGBTQ+ REVOICE 
THE WHOLE REVOICE STORY AL MOHLER WILL NOT TELL 
Revoice is promoting LGBT+ Flourishing under the banner of  SIDE B "celibacy or mixed orientation  marriage "
Nate Collins is Revoice founder and is an SBTS long time student , graduate and New Testament Teacher at the time Revoice was founded .
https://web.archive.org/web/20180629052224/http://www.revoice.us/
https://independent.academia.edu/NateCollins3
COLLINS DISSERTATION IS BASED ON FEMININE GENDER AND QUEER THEORY
"Virgin" as Secondary Gender Identity in 1 Corinthians 7 and Its Jewish and Greco-Roman Background
https://repository.sbts.edu/bitstream/handle/10392/5716/Collins_sbts_0207D_10474.pdf?sequence=1&isAllowed=y
https://thirtypiecesofsilver.org/2019/07/07/revoice-founders-sbts-critical-theory-dissertationtgc-ties-part-2/
Revoice Nate Collins taught New Testament at Mohler's SBTS as Nate and his father Chip, also a teacher at Boyce College SBTS undergrad were working with Exodus International during it's 2013 collapse . This was the start of abandon of the idea of EX GAY MINISTRIES . It was also SBTS Collins who reviewed and promoted Sam Allberry's book"Is God Anti Gay" for The Gospel Coalition as Allberry was launched to the US church audience by the 2014  ERLC "Homosexual Orientation "conference of Mohler and Moore .
THE REVOICE CONTROVERSY WAS HUGE AND MAY YET PLAY A KEY ROLE IN SPLITTING THE SBC AND CONSERVATIVE PRESBYTERIANS LIKE THE PCA
In Al Mohler's belated "Almost" condemnation of Revoice in August 2 2018 episode of The Briefing  Mohler at LONG LAST  mentions Nates Collins . In fact he names Collins 9 times but NEVER CONNECTS Nate Collins to SBTS -Mohler's seminary
https://albertmohler.com/2018/08/02/torn-two-cultures-revoice-lgbt-identity-biblical-christianity/
CAN TWO WALK TOGETHER UNLESS THEY ARE AGREED ?
MOHLER AND MOORE NOW HAVE A NEARLY THIRTY YEAR HISTORY.
(From 2013 "Southern Baptist Theological Seminary's outgoing theology school dean Russell Moore, left, and President R. Albert Mohler Jr., lead a graduation procession at the seminary on Friday, May 17. Moore, who has also been the senior vice president for academic administration, officially becomes the president of the Southern Baptist Convention's Ethics & Religious Liberty Commission on June 1. Photo courtesy of Emil Handke/Southern Baptist Theological Seminary")
"Almost Al" Mohler and Russell Moore are birds of a feather. Mohler , according to good friend Mark Dever and Founders Ministries , held very liberal views as a young  undergrad at Samford University . Mohler then attended liberal SBTS for his graduate degrees. The "conservative Mohler " emerged SUDDENLY  to the shock of both his liberal friends and his new found conservative resurgence companions in the SBC.
TODAY overwhelming indicators from SBTS role in Critical Race Theory and Revoice to Mohler protege Russell Moore's push of Beth Moore and Obama Foundation politics of Michael Wear prove the influence of Mohler in the SBC could  hardly be viewed as conservative at all.
In recent days Mohler's presidential aspirations were lauded by liberal non profit publication Religion News Service . In the article RNS portrays Mohler as the moderate uniter .
Mohler, prominent Southern Baptist, will be nominated to lead denomination
So who is "Almost Al" Mohler really? Is he the same man of his youth – a pro egalitarian and anti- inerrancy student who changed his appearance ,climbed the SBC ladder and simply hid among the conservative resurgence leaders for decades at SBTS? Or has the reborn truly conservative Al Mohler backslidden into his old ways ? Can Mohler be the "moderate uniter" as the RNS now seeks to portray him as they further seek to vilify the conservative resurgence as RACIST?
The one certainty is that Albert Mohler has already been leading the Southern Baptist for years and we still really do not know who he is.
What we should know is we do not need him for SBC President nor do we need the Obama Politics of his protege' Moore  nor the promotion of more Beth Moore  by Moore in the SBC. We do NOT NEED the CRT of Mohler's  hand picked minority task force at SBTS nor the Revoicing for LGBT Flourishing of Mohler's long time disciple SBTS New Testament professor Nate Collins.
The SBC needs help. It has had more than enough of Almost Al Mohler .
We're a 100% Listener Supported Network
3 Simple Ways to Support WVW Foundation
Make Monthly Donations
-or-
A One-Time Donation
Mail In Your Donation

Worldview Weekend Foundation
PO BOX 1690
Collierville, TN, 38027 USA

Donate by Phone

901-825-0652