It is hard to comprehend the damage that the culture of death has done to our society. Abortion on demand has produced a generation of women scarred by the trauma of taking life. Marriage as an institution has been corroded, the basics of morality have been lost, and motherhood has become more about convenience than sacrifice.
But often lost in our view of abortion is the role of the father. One of the many casualties of our Moloch worship is that the father's role in pregnancy has been minimized and marginalized, while his obligation to care for the child has been vanquished.
By stressing that human life is a choice that should only be made by the mother, fathers have been eliminated from the picture all together. Sexually promiscuous men are free to sleep around, and if it results in pregnancy they have no obligations. Abortion is so cheap and our culture celebrates the women who do it; the result is that the father's conscience is simultaneously seared and soothed.
And this too is now celebrated. Carafem—a Washington DC area abortion clinic whose motto is, "Abortion. Yeah, we do that"—has started this ad campaign in the DC Metro: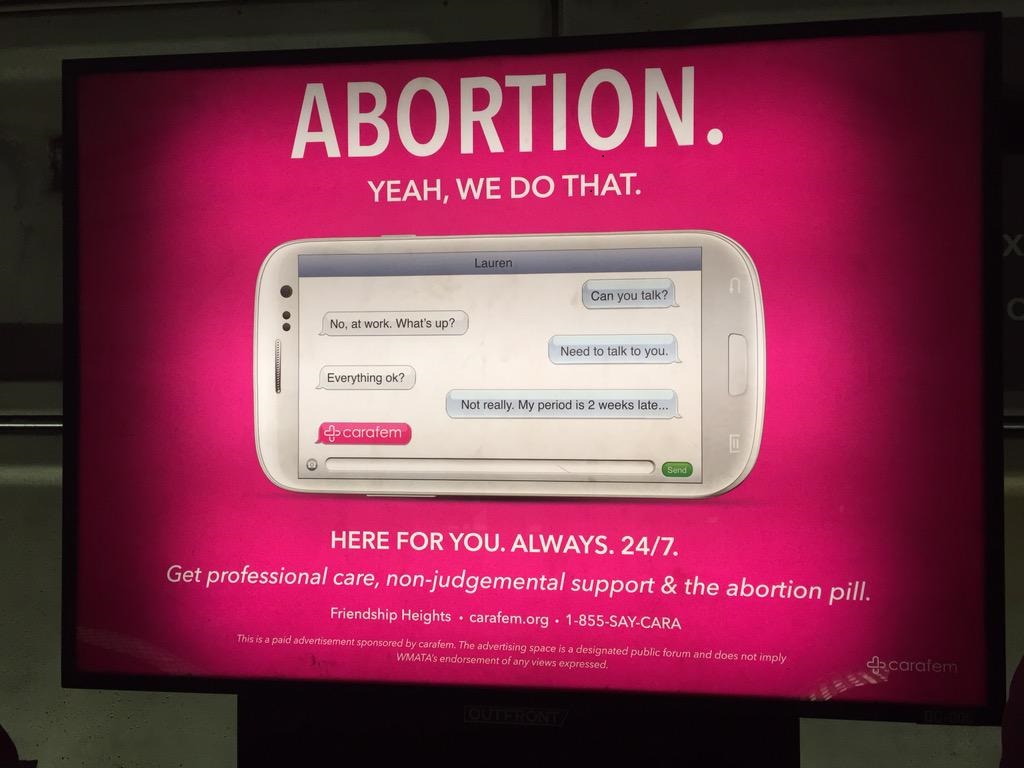 The gist is this: a guy gets a girl pregnant, and can't take five minutes away from work to talk to her about it. His response, via text message of course, is just get an abortion. See the point: abortion is so low-key that you can just tell your partner to get one by text message! With any luck, she will have gotten that take care of by the end of your shift.
The point of the ad is obviously sell abortions. The whole absent father is just a sort of taken-for-granted secondary story-line. The contrast with CaraFem's tag-line is equally obvious: while your loser-boyfriend can't take five minutes to talk about the most major decision of your life, CaraFem is "always there for you." Advice to non-Christian girls: If you have a closer relationship to your abortion provider than to your boyfriend, well… you can probably do better.
How can Christians do anything to stop this? Well for starters, when we think about abortion we need to remember that it takes two to tango. The abortion movement may be super-confused about where babies come from, but we can't be. When a woman is contemplating abortion, there are really three problems—first is her understanding of God, second is the value she places on her own life above her child's, but third is the lack of leadership from the father.
It should come as no surprise that in a culture that has lost its proverbial head when it when comes to all things gender related, that male leadership has withered and died. When you talk to an abortion-vulnerable person, remember that she is only one piece of the puzzle. She too is a victim. She is a victim of a man who wants sex without commitment, who desires the girl without the marriage, and who wants the mom to do the dirty work of the abortion.
God designed husbands to lead and fathers to provide. It's obvious why an abortion provider would celebrate men who do neither. It falls to Christians to not just plead with women to choose life, but plead with fathers to care about their own children. We should call fathers to provide for their children, and for churches to teach them how to do that.
Remember, we aren't just living with a missing generation of children, but we are living with an absent generation of fathers.